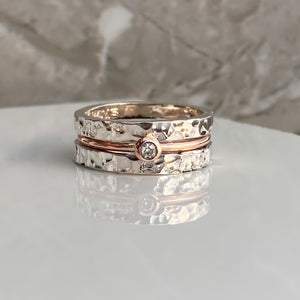 Enjoy this unique and contemporary stacking ring set, highlighted with a diamond in a solid gold setting. Handmade in my Leeds studio using only traditional precious metal techniques, this adorable three ring stacking set is made to order for you.
The suite comprises three separate rings:
Two hand-hammered sterling silver bands each 3mm wide
One skinny band, hand-crafted in lustrous 9 carat rose gold and set with a sparkling 2.5mm diamond (non-conflict of course).
They say "a thing of beauty is a joy for ever", and that's certainly true of this stunning exclusive piece of fine jewellery which will grace any occasion, or even be ideal as a beloved ring to wear every day.
Subtle yet sumptuous, classy and refined, this fabulous ring is one that you'll treasure!
Personalisation
Since each piece is handmade to order I can of course vary the metals used in your rings as you can see in the options.
And for that extra special touch I can personalise one or both of the hammered silver bands with special names, messages or dates inside. This is a completely free service, and I can add a maximum of 24 characters on each band. Just add the details in the 'personalisation and extra info' box when you order. 
Fancy something similar?
If you like this stacking set but want something a little, take a look at my 'One love' stacking set, where the diamond ring is replaced by a gold heart band., or 'Eternal Love' - a set of four rings with both a diamond ring and a gold heart band.