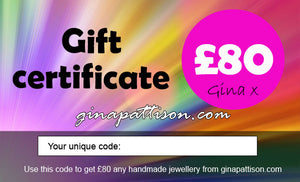 If you don't know what to buy that special someone, why not buy them some gift certificates. They have no expiry date, and come in a nice box along with a ring sizer and chocolates, so the lucky recipient will still have something nice to open.
If you're in a bit of a hurry, I can also rush to the Post Office for next day delivery, as long as you order by midday.
And if you're in a super-hurry I can email them over instead (obviously without the box and stuff - I'm not Willy Wonka!)
If you've got any special requests, please add them in the 'personalisation & extra info' box when you order and I'll try my best. You can also add an email address here if you're having them emailed or want an email copy.
Please make sure to check your spam folders if they don't think they've turned up after an hour or two.
Vouchers for specific pieces
I can also create a gift voucher for any specific items. For example, if you want to give a 'two hearts beat as one' ring as a voucher, just buy it in the normal way and in the 'extra info' box, add that you'd like it as a voucher instead of the actual ring.
I'll create the voucher, including a pic of the specified item, and send it out with a ring sizer in a nice box. :-)  
And what's more, if the recipient prefers a different piece, they can use the voucher for other pieces of the same value instead, or towards a bigger item.
If you need help, just contact me and I'll talk you through it.