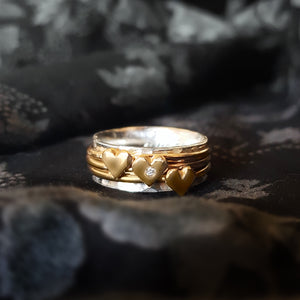 This is a really dramatic piece! Set on a 10mm wide band of solid sterling silver are three solid gold rings, each adorned with a unique hand-carved heart of glowing 9ct gold. For that special touch I've set a cute little 1.5mm diamond into the centre of the middle heart.
The silver band is artfully hand-hammered to produce a gentle sparkle, while the delicate gold rings bearing the hearts are freely spinning and the matching gold hearts, each one hand-carved and unique, add that subtle glow that only gold can.
How many diamonds?
The most popular version comes with a single diamond in the centre heart with the 2 remaining hearts left blank. I can add diamonds to the other hearts too - just ask me for a custom listing if that's what you're looking for.....
Personalisation

As your ring is handmade in my studio to order for you, I can personalise it at no extra charge. I can hand-stamp a number or letter on each of the blank hearts, and I can add a personal message inside the ring up to a maximum of 20 characters. Please let me know any personalisation you require when you order in the 'personalisation & other info' box.
Prefer silver spinners?
This is a really opulent ring with plenty of gold. If you prefer silver spinners, take a look at my listing for a spinning ring with gold hearts and diamonds