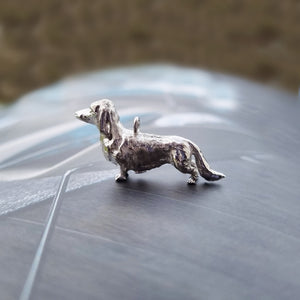 I've made a few long-haired dachshund dogs - sterling silver pendants measuring 25mm long with a little heart on their chests so they're really part of the Gina Pattison menagerie. The gorgeous doggy has a shiny finish and comes with a silver belcher chain - you can choose the length of chain when you order.
This presale is for the handful of hairy sausage dogs I've already made, which I can post in the next few days. I'll swap this listing to a standard 3-4 week delivery once these few have I've sold out.

This batch are a special price with no wait time, so be quick if you're dachshund-crazy! 
Gina xxx